We've all heard the saying, "If you don't like the weather in Minnesota, stick around for a few hours and you'll probably get something different." Temperatures can swing 50°F from one day to the next, and during the growing season, we might have five straight days of rain followed by a month of drought.
While Minnesota climate data shows that the average annual rainfall statewide is up by 3.4in since 1895, last summer's extended drought proves that there will always be exceptions to the trend. In addition, as rain patterns change in our region, we're more likely to experience a few large storms with heavy rain, separated by weeks of dry weather. All of this makes it hard to keep lawns and gardens looking good without taxing our groundwater supplies.
Rain barrels are a simple and inexpensive way to capture rainwater from your rooftop that would otherwise go to waste. Place barrels beneath downspouts to catch water when it rains, and then use it to irrigate your lawn and gardens later when it's dry. Rain barrels can help reduce your overall summer water usage and keep stormwater out of streets and streams.
When Jim and Mary Reckinger purchased and installed two rain barrels on their Woodbury home a few years ago, they had two primary motivations – saving water, and simplifying maintenance issues. The two were raising children, working full-time jobs, and visiting their cabin in Wisconsin whenever possible. After installing the rain barrels, they realized that they could actually turn the water off in their house when they went out of town, and then ask a neighbor to water their flowerpots and birdbaths using water from the rain barrels.
For years, the University of Minnesota Extension recommended against using rain barrel water on fruit and vegetable gardens due to concerns about heavy metals and bacteria from roofing materials and bird poop. However, recent research from Rutgers University found that water quality for rain barrels is usually quite good and poses little risk for veggie gardens. To kill off potential pathogens, add 1/8 teaspoon (8 drops) of bleach per gallon of water once a month and then wait 24 hours before using the water. The Rutgers researcher team also recommends watering your gardens in the morning and then waiting until the afternoon or evening to harvest.
Currently, Recycling Association of Minnesota is working with area cities and counties to offer rain barrels and compost bins at discounted rates:
There are also many other cities and counties in Minnesota offering compost and rain barrel sales in partnership with Recycle Association of Minnesota.
The rain barrels have a large opening and flat back design that allows for easy installation, are child and pet safe, and have an aluminum mesh screen to keep mosquitoes and debris out of the water. Purchase includes screen, short garden hose, shut-off thumb valve, hanging hose clip, overflow hose, and linking kit. Spigots on the side of the barrel also make it possible to connect multiple barrels in series to collect and store more water.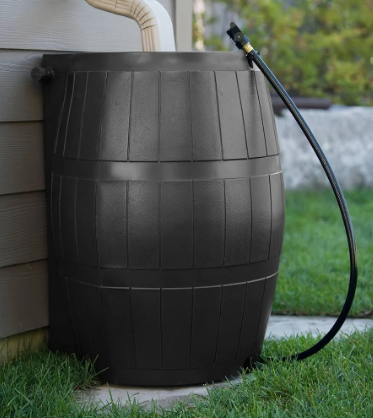 The compost bins are made of sturdy, lightweight, recycled plastic materials and come in two pieces that will fit in most vehicles. The bins hold 125 gallons of material and have a lockable lid on the top to deter animals. Use these bins to convert leaves, grass, and kitchen scraps into nutrient-rich compost that can be used to boost flower and vegetable gardens. Composting helps to keep food waste out of landfills and also provides free fertilizer.